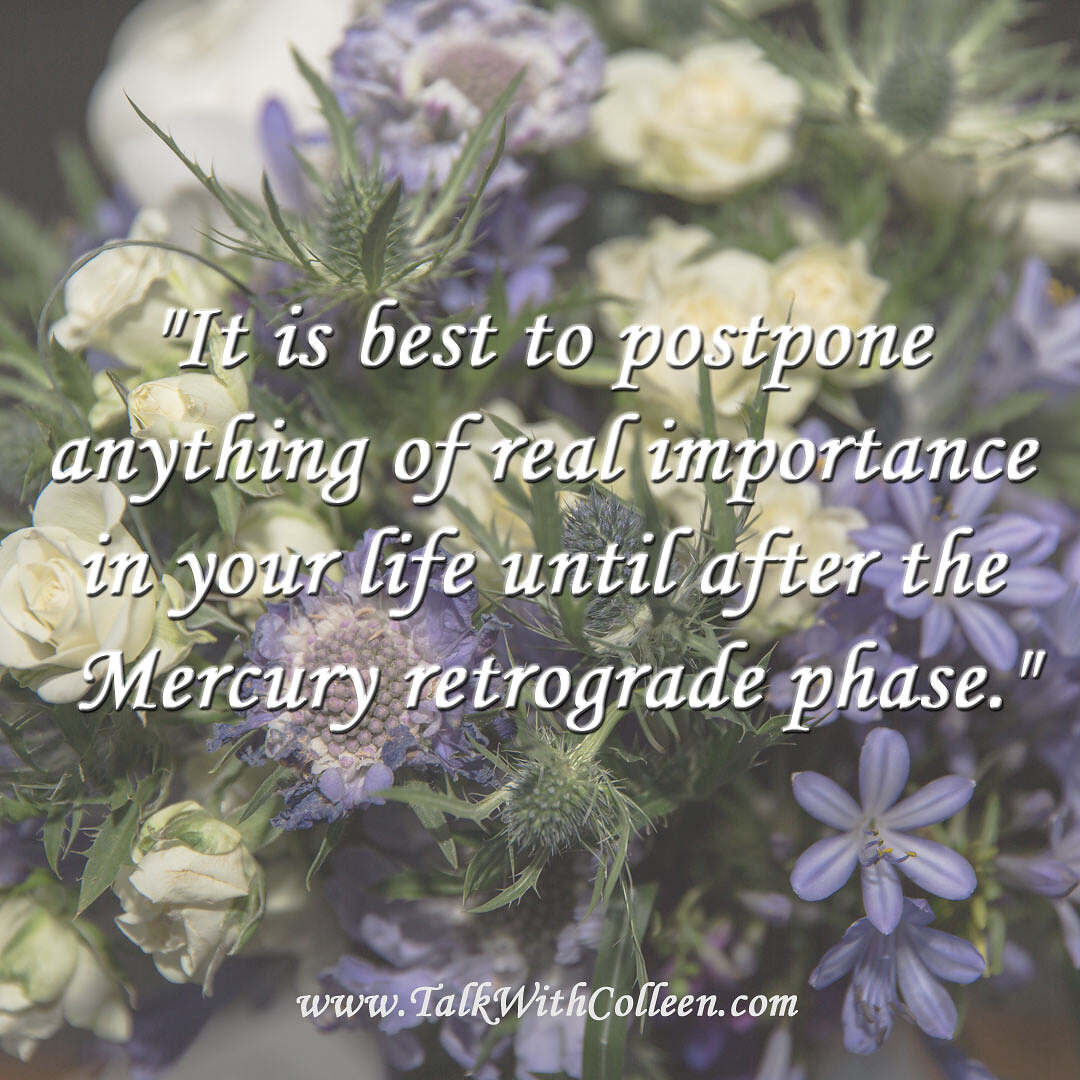 Mercury in Retrograde is a time for deep reflection and contemplation.  It is always a good idea to be aware of the times this happens.  For those that are interested, these are the exact dates/times that will be affected during this retrograde of Mercury.
The first Mercury Retrograde of 2019 begins with the Pre-Shadow in Pisces (16o 6″) on February 19, 2019, at 2:19 pm Universal Time*, 9:19 am EST, 6:19 am PST.
Mercury goes Retrograde in Pisces (29o 39″) on March 5, 2019, at 6:19 pm Universal Time, 2:19 pm EDT and 11:19 am PDT.
The Direct Station occurs in Pisces  (16o 06″) on March 28, 2019, at 1:59 pm Universal Time, 10:59 am EDT and 7:59 am PDT.
Mercury ends the Post-Shadow on April 16 at 8:03 pm EDT, April 16, 2019, 12:03 am Universal Time, April 17, 2019
Mercury in Retrograde makes many people very uncomfortable.  I see it as a wake-up call of the things we are not paying attention to.   This is an excellent time to do self reflection and become aware of our patterns, most noticeably our negative ones and this is an excellent time to start to look at ways to correct them.  You may be filled with a lot of self doubt, find yourself less proactive in situations and experience setbacks.   With the full moon and other planets, the first Mercury direct phase brought compassion, healing, selflessness, clairvoyance and spirituality.
What should you do during this time period?   Plan ahead, be attentive and double check everything.   This is a time to anticipate problems and be flexible when the occur.   Don't jump into anything new, keep a positive attitude, express your anxiety, have patience and be realistic during this time.
How this one is affecting me
I don't usually share how it affects me, but I have personal experience with this one that may make it easier for some of you to relate to.  This time it effects may be focused on communication.  The retrograde in Pisces, suggests that some miscommunication may show up in the media.  This may show itself in ideals, confusion, and assumptions that came from not seeing what was real at an earlier time.
This personally is hitting me hard with the pre-shadow happening on the same date that I got my BRCA2 results.   I am in a place of needing to make some serious changes and how I have been avoiding dealing with all that comes with a strong breast cancer history in my family.   This is a time for me to focus on myself and learn as much as I can before I make major decisions.  It can't be a coincidence that the first appointment with the best surgeon in the area is at the end of this retrograde.
Some of the best advice I had been given about Mercury in Retrograde is "It is best to postpone anything of real importance in your life until after the Mercury retrograde phase."   That cannot be any more true when it comes to my health decisions.   Hopefully my sharing this will help you understand the power these retrogrades have on you.  There are so many factors that go into how Mercury retrogrades will affect you.   I am still learning more every day.
Future Dates of Mercury in Retrograde
2019
July 7 – 31, 2019 starts in fire-sign Leo, ends in water-sign Cancer
October 31 – November 20, 2019 in water-sign Scorpio
2020 -2021
February 18 – March 9, 2020 in water-sign Pisces, ends in air-sign Aquarius
June 17 – July 12, 2020 in water-sign Cancer
October 13 – November 3, 2020 in water-sign Scorpio, ends in air-sign Libra
January 30, 2021 – February 20, 2021 in air-sign Aquarius
May 29, 2021 – June 22, 2021 in air-sign Gemini
September 27, 2021 – October 18, 2021 in air-sign Libra
2022 – 2023
January 14, 2022 – February 3, 2022 starts in air sign Aquarius, ends in earth-sign Capricorn
May 10, 2022 – June 2, 2022 starts in air sign Gemini, ends in earth-sign Taurus
September 9, 2022 – October 2, 2022 starts in air-sign Libra, ends in earth-sign
December 29, 2022 – January 18, 2023 in earth-sign Capricorn
April 1, 2023- April 25, 2023 in fire-sign Aries
August 4, 2023 – August 28, 2023 in earth-sign and ends in fire-sign Leo
November 25, 2023 – December 15, 2023 in fire-sign Sagittarius
2024 – 2025
March 14, 2024 – April 7, 2024 starts in fire-sign Aries, ends in water-sign Pisces
July 17, 2024 – August 11, 2024 in fire-sign Leo
November 9, 2024 – November 29, 2024 starts in fire-sign Sagittarius, ends in water-sign Scorpio
February 25, 2025 – March 20, 2025 in water-sign Pisces
June 29, 2025 – July 23, 2025 in water-sign Cancer
October 24, 2025 – November 13, 2025 in water-sign Scorpio
2026 – 2028
February 9, 2026 – March 3, 2026 starts in water-sign Pisces, ends in air-sign Aquarius
June 10, 2026 – July 4, 2026 starts in water-sign Cancer, ends in air-sign Gemini
October 7, 2026 – October 28, 2026 starts in water-sign Scorpio, ends in air-sign Libra
January 24, 2027 – February 14, 2027 in air-sign Aquarius
May 21, 2027 – June 13, 2027 in air-sign Gemini
September 19, 2027 – October 11, 2027 in air-sign Libra
January 7, 2028 – January 27, 2028 starts in air-sign Aquarius, ends in earth-sign Capricorn
May 1, 2028 – May 25, 2028 in earth-sign Taurus
September 2, 2028 – September 24, 2028 starts in air-sign Libra, ends in earth-sign Virgo
Past Articles on Mercury in Retrograde: