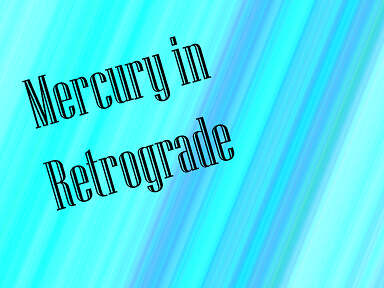 Mercury in Retrograde is coming and many people dread it.  I look forward to it.   It seems each time it happens I gain some insight and feel more confident and stronger.
This upcoming retrograde is something  to help you reflect on relationships.  Each retrograde period tends to focus on one particular aspect of our lives, and for the next five weeks the area of our hearts and relationships will be returning for review.
Perhaps it is how you approach it.   If you look forward to it and understand the influences that you may have an easier time when things go crazy during this period of time.  Good advice for everyone includes don't make any important moves when Mercury is retrograde.
But if you are looking for information about this Zodiac influence let me share some facts about Mercury in Retrograde.  Sometimes it appears that planets are going in reverse or retrograde.  This has some influence on people.
This time was traditionally associated with confusions, delay, and frustration.

If you are thinking about something — pay attention it is important.

An excellent time to reflect on the past and evaluate your actions.

The planet Mercury rules communication, travel, contracts, electronics and automobiles.

Intuition is high during these periods, and coincidences can be extraordinary.

Take care with your words – communication can be difficult — so PROOFREAD everything

Mercury in Retrograde seems to affect everyone evenly and its effects are very obvious to those that it affects

This is a bad time for elective surgery
Additional Dates for Mercury in Retrograde:
August 30 – September 22, 2016 in earth-sign Virgo
Dec 19 2016 – Jan 8, 2017 in earth-sign Capricorn, ends in fire-sign Sagittarius
2017
Dec 19, 2016 to Jan 8, 2017 earth-sign Capricorn, to fire-sign Sagittarius
April 9 – May 3, 2017 earth-sign Taurus, to fire-sign Aries
August 12 – Sept 5, 2017 in earth-sign Virgo, ends in fire-sign Leo
December 3 – December 22, 2017 in fire-sign Sagittarius
2018
March 22 – April 15, 2018 in fire-sign Aries
July 26 – August 18, 2018 in fire-sign Leo water-sign Scorpio
November 16 – December 6 in fire sign Sagittarius, ends water sign Scorpio
2019
March 5 – 28, 2019 in water-sign Pisces
July 7 – 31, 2019 starts in fire-sign Leo, ends in water-sign Cancer
October 31 – November 20, 2019 in water-sign Scorpio
2020
February 18 – March 9, 2020 in water-sign Pisces, ends in air-sign Aquarius
June 17 – July 12, 2020 in water-sign Cancer
October 13 – November 3, 2020 in water-sign Scorpio, ends in air-sign Libra
2021
January 30 – February 20 in air-sign Aquarius
May 29 – June 22 in air-sign Gemini
September 27 – October 18 in air-sign Libra
2022
January 14 – February 3 starts in air sign Aquarius, ends in earth-sign Capricorn
May 10 – June 2 starts in air sign Gemini, ends in earth-sign Taurus
September 9 – October 2 starts in air-sign Libra, ends in earth-sign Virgo December 29 – January 18 in earth-sign Capricorn
2023
See above, Dec 29, 2022 – Jan 18, 2023- goes direct in earth sign Capricorn
April 21 – May 14 in earth sign Taurus
August 23 – September 15 in earth sign Virgo
December 13, 2023 – January 1, 2024 in fire-sign Sagittarius
2024
See above, January 1, 2024 goes direct in fire-sign Sagittarius
April 1- April 25 in fire-sign Aries
August 4 – August 28 in earth-sign and ends in fire-sign Leo
November 25 – December 15 in fire-sign Sagittarius