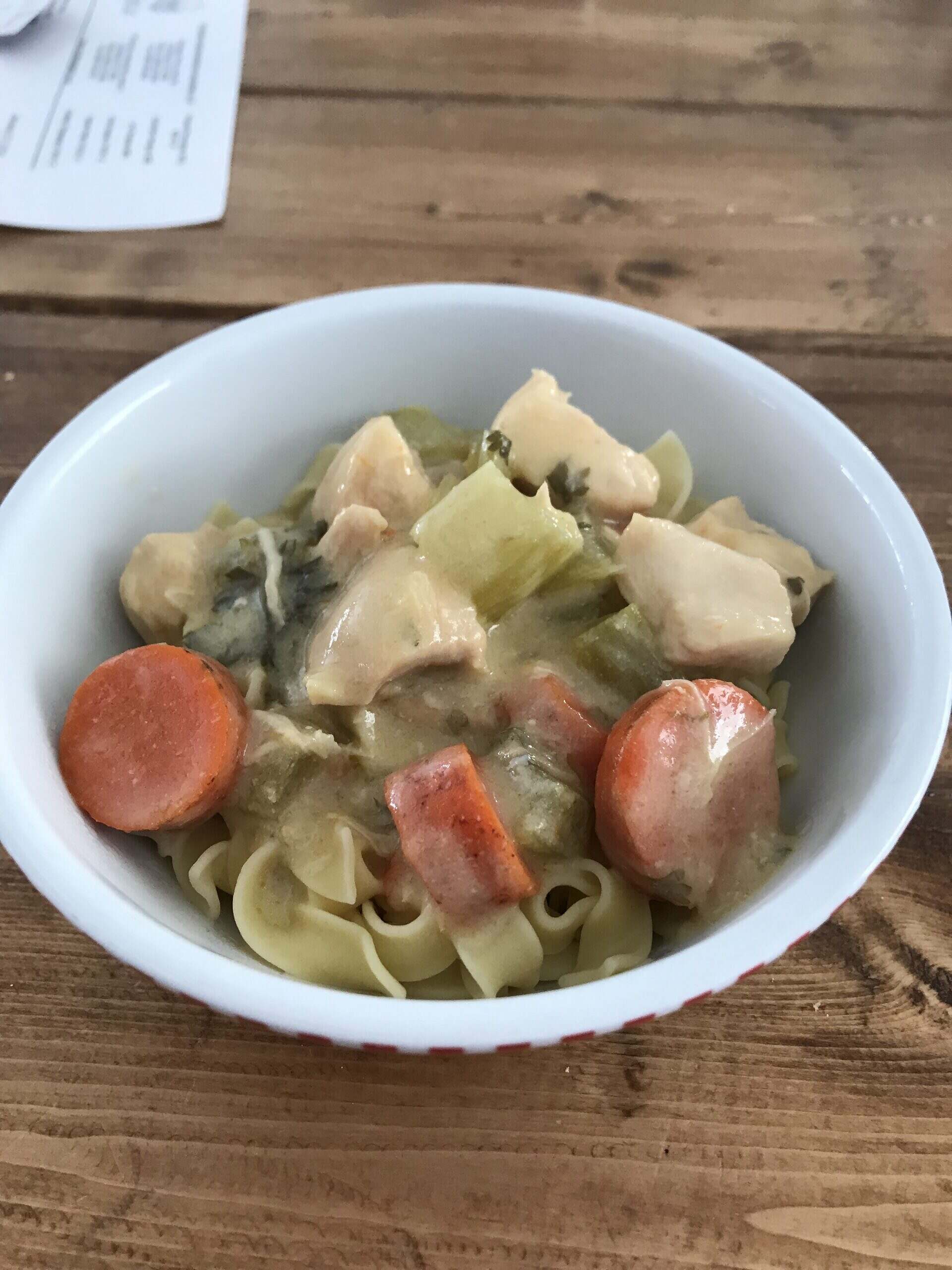 I make Golden Chicken often in the winter for George and myself.   Since we both drink rarely, I have gotten into a habit of planning this meal right after we have opened a bottle of white wine and use the leftover wine.   Hence why I use half a bottle of dry white wine.   I use a dry Riesling because I love it.   Any other dry white wine will work well too.
Creative Cooking with Spirit
The original recipe I have modified at least a dozen times.   This is where my mediumship comes in handy.   I am not a gourmet chef, I do have some basic skills in the kitchen.   The magic happens when I let Spirit's suggestions fall in to my consciousness.    The original recipe called for carrots only.   It seemed to be missing something, and I added a can of cream of celery, although very tasty was missing something.    The next time I added the onion and celery and changed to the Coleman's mustard (that my grandmother loved) and the wine.    And I had a winning recipe that I don't mess with now.
I had a friend take it one step further, substituting a can of the chicken for cream of mushroom and added mushrooms to the mix.   We are not mushroom fans, but she said it was awesome.
Shopping to make Golden Chicken
When I prepare to make this, I tend to go the Farmer's Market and get fresh carrots.    I have been disappointed by using baby carrots for this recipe.   This recipe is best with big chunks of veggies.    Often they are best found at farm stands and farmer's markets.   I never see the quality of veggies at the grocery store.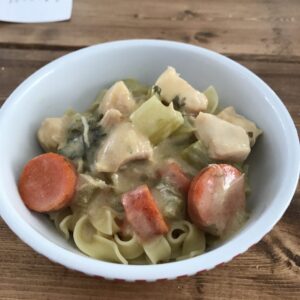 Colleen's Golden Chicken
This is a variation on Campbell's recipe. I serve it over noodles or even rice. George says it would be good over mashed potatoes. Simple crockpot recipe that never seems to disappoint anyone that eats it. It is an excellent dish to bring to a pot luck dinner.
Ingredients
2

cans

10 3/4 ounce Campbells Condensed Cream of Chicken soup

Regular or 98% fat free

1

can

Campbells Cream of Celery Soup

2

cans

water

1/2

Bottle

dry white wine

You can use chicken broth instead, but we prefer the wine

1/4

cup

lemon juice

2

tbsp

Coleman's Mustard powder

You can use any mustard you have in fridge as well, I find that the powder gives a deeper flavor

1 1/2

tsp

garlic powder

4

cups

chopped carrots

larger pieces -- thickly sliced

4

cups

chopped celery

thick pieces

1

large

onion, chopped

12

pieces

skinless, boneless chicken thighs

The original recipe calls for 8 chicken breasts, we have found that it just tastes better with thigh meat.

1

package

egg noodles, prepared separately

Or if you wish rice or mashed potatoes.

fresh parsley, salt and pepper to taste.
Instructions
Mix all ingredients in crockpot, placing the chicken in last making sure it is coated. Sometimes I find that I need to add a little more water or wine depending on the amount of chicken.

Cook on high for 1 hour, then reduce to low for 7 hours.

Serve over egg noodles and chopped fresh parsley