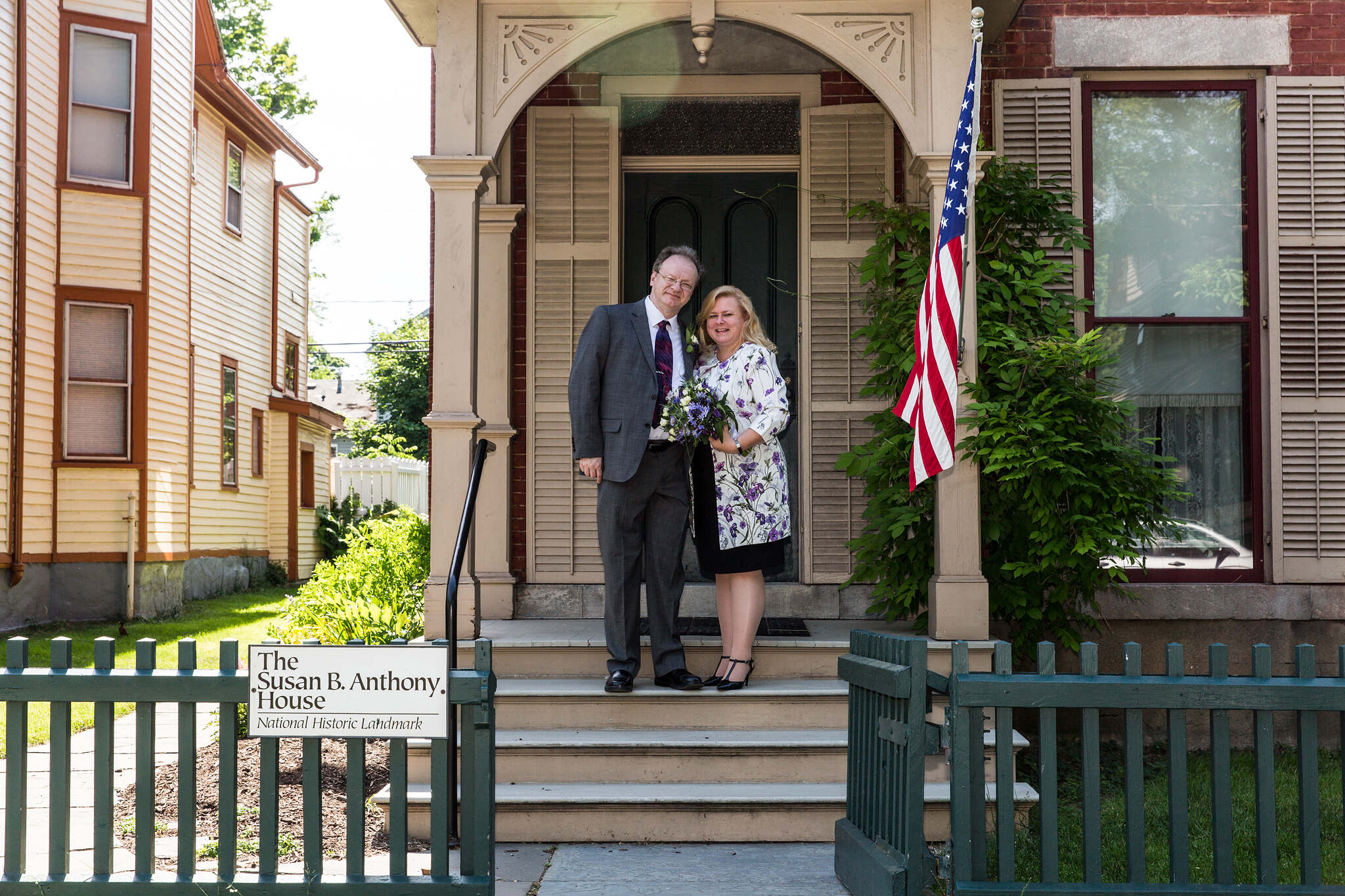 "Music means a lot to us" is an understatement to say the least, so a soundtrack was needed for our elopement.  It has been part of our individual lives for as long as we can each remember.   And, unbeknownst to each of us, our musical interests intertwined.  So when it was time to figure out the details of our "elopement" we knew there had to be music.
We set rules for what I called our "soundtrack" which was to be played during the gathering of our few guests at the church where we were to be married.  First, only one song per artist; second, no proper names; third, no associations with our past relationships.   For me and for Colleen too, this third guideline eliminated entire artists' repertoires, although we were able to get around them for the most part.   Fourth, the songs needed to be mid-tempo or thereabouts… this wasn't going to be a "dancing wedding" by any means.  My first wedding wasn't either and the dancing part of Colleen's first wedding was something she'd rather not bring up!  (And by the way, we were both at each other's events.)
And of course, each song and artist had to be something special to one or both of us. 
We were limited to an hour plus one song which we knew we would end with as the cue for our guests to assemble for the ceremony.   That meant a number of choices we made needed to stay behind for another time.
Our Soundtrack
"Love Needs A Heart," Jackson Browne, from Running on Empty (1978).   Colleen introduced me to this song after we became a couple.  It is a song of exquisite longing for someone to love.   The LP was recorded on tour and on the road.  Both of us have done plenty of time away from home which adds meaning to this choice.
"Unanswered Prayers," Garth Brooks, originally from No Fences (1990).  Colleen says this is one way to look at our relationship.  Just as Garth sings (based on actual events, he's said), if one of us had said yes to someone else, or someone else had said yes to one of us, things might not have turned out the way they did.  It's true that this did happen, and we both have loved and been loved before—but maybe that was just the path we had to follow to be where we are today.
"At The Beginning," Donna Lewis and Richard Marx, from the Anastasia soundtrack (1997).  Somehow, not intentionally, we managed to put three (maybe four!) songs from animated films into this set.  We get Richard Marx, a favorite of both of ours, into our soundtrack, in a duet with one of my favorite singers.  And there's a connection to, believe it or not, Schoolhouse Rock, which we both grew up with: "At The Beginning" was co-written by Lynn Ahrens, who wrote and performed several of the Schoolhouse Rock songs.  (Look it up, kids!)
"The Next Time I Fall," Peter Cetera and Amy Grant, from Cetera's album Solitude/Solitaire (1986).  We sort of sneak in the band Chicago here, as Peter Cetera was the lead singer for that group for many years.  One of my favorite singer-songwriters is Bobby Caldwell, whose only solo hit was "What You Won't Do For Love" in 1978, but he co-wrote this one and it went all the way to Number One on the Pop Chart. 
"Dream A Little Dream of Me," Cass Elliot/The Mamas and the Papas, from The Papas and The Mamas (1968).  Colleen lost a dear friend unexpectedly several years back.  Laurie was someone she had never met in person but knew intimately anyway.  Colleen and Laurie used to end their phone conversations with the line from this song, "Sweet dreams till sunbeams find you."   We didn't realize that this song is quite old: there's a recording of it online by Ozzie Nelson dating back to 1931—the year it was written!
"I Only Want To Be With You," Vonda Shepard, from Songs From Ally McBeal (1998).  Colleen and I were talking one night and the singer Vonda Shepard somehow came up in the conversation.  "I love her song 'The Radical Light,' Colleen mentioned, and I smiled from ear to ear—that song is in my "All Time Top 40" and Colleen had no idea of this.   And so we needed to include Vonda in our soundtrack.  Her cover of this song, first recorded by Dusty Springfield in 1963, is quite different from the original. 
"Kiss The Girl," Steve Tyrell, from Steve Tyrell: The Disney Standards (2006).  Speaking of very different from the original, this song from Disney's animated film The Little Mermaid receives a jazzy, soulful remake from a master vocal stylist (who also co-wrote hits like "How Do You Talk to an Angel" from the TV series The Heights).  This song was in my head for a number of weeks before the afternoon of December 8, 2017 when I finally did "Kiss The Girl"—but only after a conversation which began with Colleen's question, "Do you think we're avoiding something?"
"Kiss Me," Sixpence None The Richer, from Sixpence None The Richer (1997).  A request we use a lot.  This was such a natural follow from "Kiss The Girl" that we couldn't resist using it here.  This song was also a late bloomer in terms of popularity, reaching #2 on the Billboard Hot 100 chart in 1999 after being used in two episodes of Dawson's Creek and then being the featured song in the film She's All That.  We have an affinity for late bloomers… if you know our history.
"Marry Me," Train, from Save Me, San Francisco (2009).  What better to follow "Kiss Me" than "Marry Me"?  Besides my obvious like for the band's name, Train has recorded some really well-crafted and memorable pop songs, including my favorite from them, "Drops of Jupiter."   The video for this song begins with a series of couples describing how they met.  One of them says, "Timing is everything."  Ain't that the truth.
"Wedding Day," The Bee Gees, from This Is Where I Came In (2001).  We are both Bee Gees fans, and not just of their disco-era music.  This is from the final album from the trio and harkens back to their pre-Saturday Night Fever sound.   We both have this album in our individual iTunes library so when it came to select a song from them for the soundtrack, it was easy!  And besides, what better to follow "Marry Me" than "Wedding Day"?
"When You Wish Upon A Star," Olivia Newton-John, from Warm And Tender (1989).  Given some of our guidelines, we could not include the more famous songs from Olivia that would have fit here.  So we went with the second song from a Disney film, in fact the one that won Best Song at the Academy Awards for 1940.  Olivia's album of lullabies hardly charted and is largely "lost" today but she sings this song from Pinocchio as beautifully as any other hit she has had.
"Landslide (Sheryl Crow Remix)," The Dixie Chicks, from Home (2002).  We both love this song and I appreciate the Fleetwood Mac (really Stevie Nicks with help from the band) and the Dixie Chicks versions equally.  This is what would have been called a "standard" back in the day (I think "Dreams" is another one for Stevie but that doesn't fit an elopement soundtrack!).  We picked this version because it's the first song we sang together, during a car trip of course.   The Dixie Chicks have amazing harmonies on this cover and the video for the single is simply stunning.
"When You Say Nothing At All," Alison Krauss and Union Station, initially from Keith Whitley: A Tribute Album (1994).  To say Alison Krauss has the voice of an angel is about the best I can do.  There are times when each of us don't have to say anything to be heard.  It's not just because of Colleen's gift or my logic—it's knowing each other as well as we do.  (Although in my vows, I said I would promise to try to stop finishing Colleen's sentences… and to finish my own!)  This cover first appears on the tribute album as Keith Whitley had a Number One Country single with it, posthumously.  It's possible that Alison Krauss' version is better known even though it was a freak hit—it was played by some country radio stations even though it was not supposed to be a single.
"Morning Has Broken," Cat Stevens, from Teaser and the Firecat (1971).  This was the first song we selected for the soundtrack, without question.  It brings a sense of hope and optimism and communicates that every day is really a new beginning.  This is the favorite song of our friend and Colleen's mentor Reverend Jack Rudy, who presided for the elopement… I mean, wedding ceremony.  Like "Dream a Little Dream of Me," it was also first published in 1931 although it is set to a traditional Scottish Gaelic tune called "Bunessan" after the village where that melody was composed by Mary M. McDonald. 
"The Rainbow Connection," Kermit (Jim Henson), from The Muppet Movie (1979).  This was the last song we added to our list, and I don't know how we missed it before.  Rainbows, wishing on stars, believing, and the child within each of us… all are in this gentle number sung– not perfectly, which is part of the charm– by a gentle human being.
"Imagine," John Lennon, from Imagine (1971).  Anyone who either knows this song or was around when John Lennon was taken from us on December 8, 1980 knows why we would choose it.  It is a song that has also "crossed over" to church services, including at the one where we were married.
"At Last," Etta James, from At Last! (1960).  Colleen picked this song and if you know the lyrics, it certainly fits!  This is actually a cover as Glenn Miller and his orchestra recorded it several times, most successfully in 1942.  (It was the flip side of their 78 rpm record which included "I've Got A Gal In Kalamazoo.")  James' version sets the standard, though.   Colleen had written a version of what she wanted in a partner several years before we reconnected (which was the day I was served divorce papers, by the way) and she says this song means a lot to her because although she didn't know it at the time, I am the person she wrote about.  I'm blushing…
"Standing Right Next To Me," Karla Bonoff, from New World (1988).   Here's a bit of sentimentality: this is the first song that we danced to… although I'll skip the details.   Karla Bonoff has written songs for artists like Wynonna Judd and Bonnie Raitt, but is most closely linked to Linda Ronstadt. 
"Will The Circle Be Unbroken," Nitty Gritty Dirt Band and many guests; this version from Will The Circle Be Unbroken Volume 2 (2002).  It might seem unusual to close with this song, since it is about a mother dying and being buried, but it's not just about that, really. 
The "circle" refers to family, and in a sense, we had family surrounding us for the ceremony.  We mean that literally; we were in the center of a circle of the attendees to our "elopement."   Circles raise the energy and spirit in a room, simply by people being able to look at each other.  So does music. We wanted it that way.