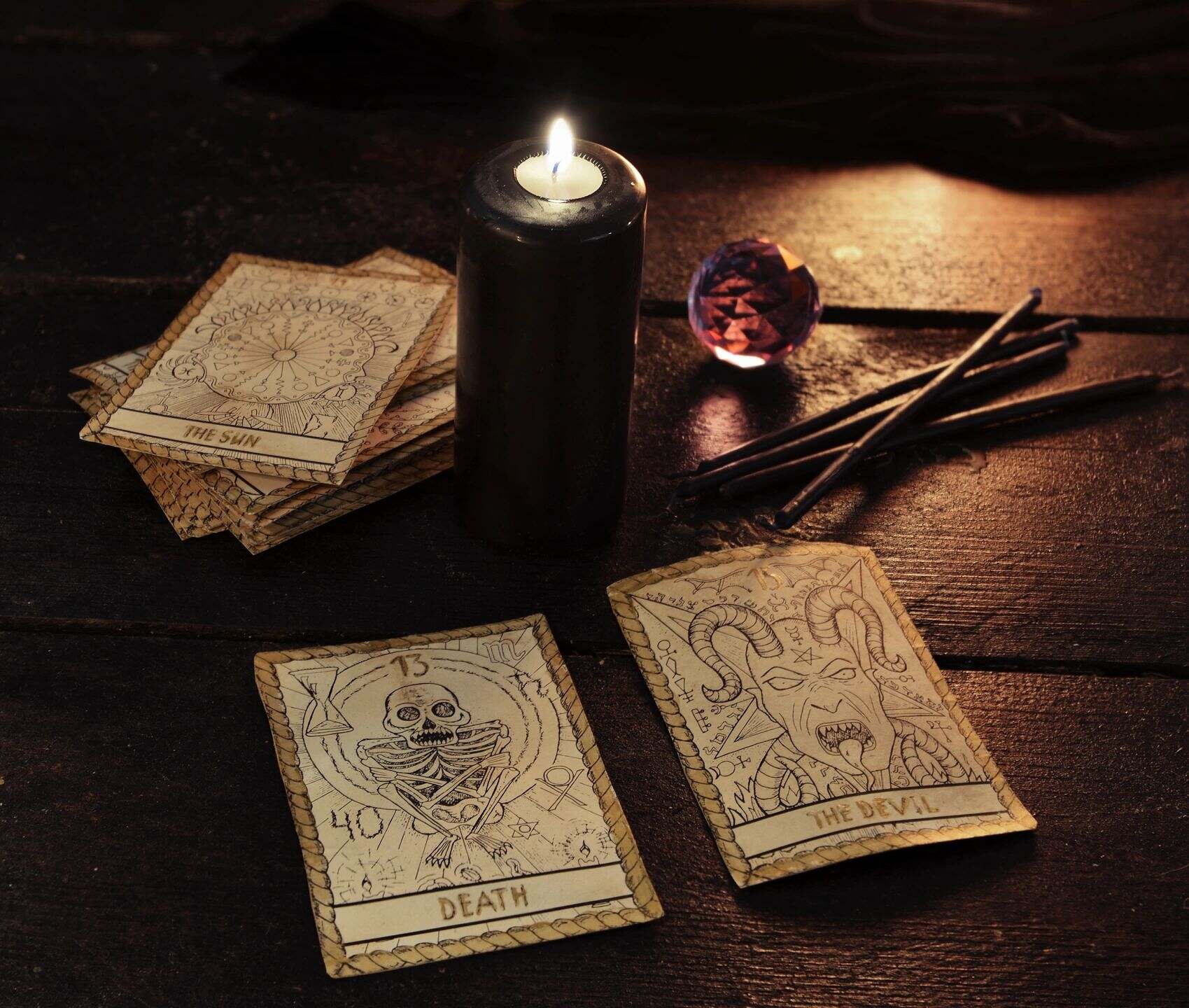 One of the most common question regard tarot cards is that of cheating (be it significant other, friend, business partner or someone wanting to deceive you).  It can be uncomfortable.  If I am seeing these cards,  I know and understand what is going on.   Today I want to discuss some of the cards and their potential meanings when it comes to infidelity.
Infidelity Basics in Tarot
Here are some generalizations that may assist you in understanding cheating when presented with cards.
It is something that over time you will find easier to understand.
Any one card doesn't necessarily indicate, it is the combination of cards that will tell the story.
Look for reversals – They often reveal cheaters or a relationship breakdown.
In context of Self in the reading, the card could mean the sitter is cheating.
Cards That May Indicate Cheating
The Fool

Wild behavior or immaturity are indicative of this card

Knight of Wands

This card can indicate a high sex drive or a wandering eye

Magician – Reversed

When I see this card reversed, I see a con-man looking out for their needs

Moon – Reversed

Seeing this card reminds me to look deeper, things are hidden and not at the surface

The Hermit

Can indicate a withdrawal and isolation

Death

When this card appears can indicate an ending

 Devil

This card has deep sexual undertones and someone that cannot resist temptation
Can also indicate there is abuse in the relationship

High Priestess – Reversed

Untrustworthy friend, or temptation not resisted

Judgement – Reversed

This in itself appears to indicate lack of good judgement

Tower

When cheating happens there is usually a huge shakeup and a trail of destruction in its path.

2 of Pentacles

Can indicate a splitting of resources

2 of Cups – Reversed

Easily described, this indicates a loss of love

3 of Swords

This is classic heartbreak and indicates a painful end of a relationship
It can indicate a third party in your relationship
3 of Cups – Reversed

Three's a crowd in any romantic relationship

5 of Cups

There are hurt feelings and loss

5 of Pentacles

Clearly an indication of a serious loss

7 of Swords

I always see this card as someone getting away with something
Also indicates that something is not fair

8 of Cups

I see walking away, avoiding responsibility and a need to reconnect with your inner self

Ten of Cups – Reversed

Reversed this card is about paying attention to the hear and now, it may not be perfect but what is?

Ten of Swords

Just look at the card — a man being stabbed in the back
In Tarot the 10 card in the suits indicates a completion/ending
Trust Yourself
Remember the cards have many layers of meanings.   One card alone does not mean this to be true.   It takes time to understand Tarot Cards and their meanings.   Trust your intuition when using Tarot.
Tarot cards are NOT a substitute for a doctor, therapist, or other health care professional. Do not use these cards as a guarantee for recovery nor should they be used to diagnose or prescribe. They can only show the energy present.  You should always seek out proper medical advice from the professionals.
By participating in/reading my services/website/blog you acknowledge that I am not a licensed psychologist, lawyer, or health care professional and my services do not replace the care of lawyers, psychologists, or other healthcare professionals.
Although Tarot Reading is used as a self-counseling tool for spiritual growth and personal development, it is ultimately viewed as a form of entertainment.  Tarot Reading is subject to interpretation and should not be taken as Absolute. A Tarot Reading is never 100% accurate, therefore it should never be fully trusted.
A Tarot Reading does not replace Professional Medical/Legal/Business opinion and advice on any occasion, regardless of how convinced you are that your reading is accurate and the reader to be trusted.
If you are suffering severe difficulties in any of the above areas of; physical health, mental health, legalities, and business concerns, you must consult with those professionally qualified to give suitable treatment and/or advice.  Any decision you make because of any reading is done of your own free will.
Other Card Combinations you may be interested in reviewing: