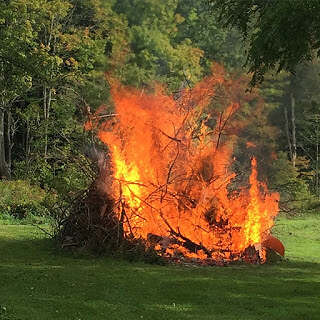 Fire is amazing.  When she awoke, the world was on fire struck me as a beautiful statement of where I am right now.  I have been in a huge growth Spiritually and you could say that I am on fire.  A direct result of opening my heart and paying attention.   I am awake and I am moving forward.  With that state, I am not okay with a lot of things that are going on in the world, and I want to make a difference.  To start with my paying attention and making judgements based on facts not opinions.   Something that too many people seem to have difficulty with therefore we are in the chaos we are in.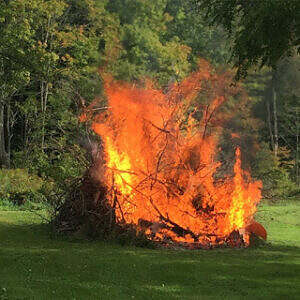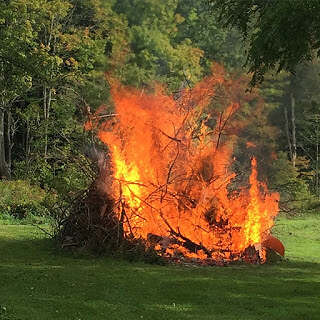 Everything in life teaches you something.  My current fascination with fire I had to stop and wonder why.   A good friend of mine recently burned a bunch of yard waste  while I was there.   It totally captivated me.   Just looking at this photo I can hear the crackling of the wood, smell the smoke, see the fire dancing and feel the heat it created.
The change that fire was making on his yard was huge.   These were branches that had fallen over time that no longer had any purpose.  What was left was a bunch of ashes that was returned to the earth which will help nurture new growth.
Now what?
Fire eliminates and it purifies. It creates an environment for new growth. It changes things, sometimes for the better.   Fire  is immediate and cannot be ignored.
There is a lot of transition in this world.  Many may feel overwhelmed, frustrated and not happy.  This unhappiness is causing a lot of sadness in the world.   A world that needs to change, with people are terrified of just that thought.  This is the time to embrace the change in life with faith that all things will work out not in fear that it will not.
It is okay to feel those emotions, it is not okay to stay in them.  Open your eyes, and learn as much as you can.  Your world will change as a result.  Speak up when you see injustice, hold people accountable for the actions and stop being silent in the wake of wrong doing.     It is now that we must hold strong to our faith and not allow fear to overcome us.