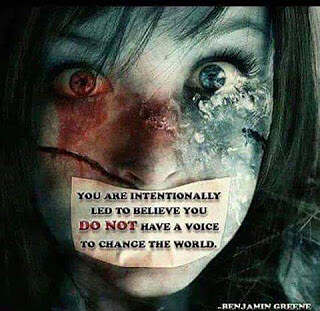 So often we hear that we can change the world.   Yet we have little that happens in our lives that reinforce that fact.   In fact many women are given confusing signals.   Like many, I grew up being told to hold my thoughts to myself.  What my father said meant what we all were to believe.   In some instances what our grandfathers stood for so did we.   I didn't have a chance to express myself — I was not allowed.
I have always been led to
believe
that nothing that I could say or do can change the world.   It was pounded into me that women did not do these things.  I know this is not true.  We all have the answers deep within us.  It is when ego gets in the way that we either take control from others or give it up to those around us.  All that negative thinking took its toll on my confidence.
Change the World
So think about it in your own life.  See how your beliefs have been shaped to think that you are not a valued opinion.  Start small and speak your truth because you may just be the person who does change the world.  Or give the person that will the courage to stand up and change it.
Either way you are pretty powerful!   Never forget the power of
planting a seed
…