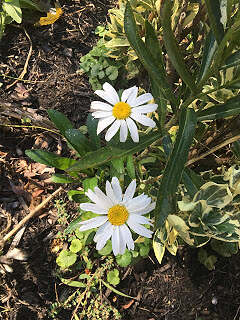 Here are two daisies that have bloomed this week.  Usually they bloom in late June.   These two have bloomed in October.   On their own time and in their own beautiful way.
This applies to people as well.   Some times people need more time to develop.   So the next time someone doesn't achieve something on a timeframe you think they should; don't judge them.  Instead encourage and help them bloom.   Sometimes it is just a little additional attention that will make all of the difference for that person.
When they do bloom — it is just that more beautiful!