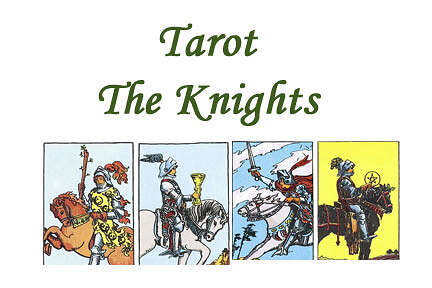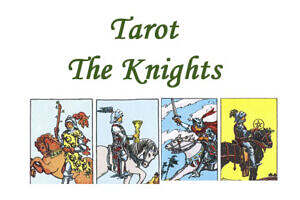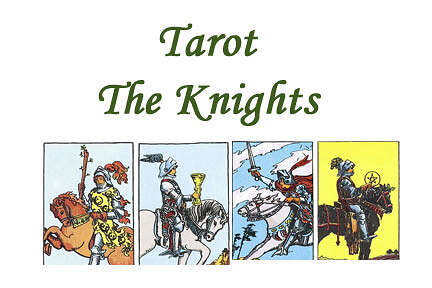 The Knights are one aspect of the Tarot.  Tarot cards give you a tool to use to connect with Spirit.  Court cards can be confusing and overwhelming.   Where Pages are the most immature The Knights of the Court are more daring and action oriented.  There are two sides to a Knight and one must always ask can this action be harmful or helpful?
Court Cards -Knights
Knights served the Queen, and were her champions.
The Knight is described as a more action-oriented person, who is slightly more mature than a Page. He could be someone in his 20s, for example. He is more of a go-getter.
There is a sense that Knights are well-meaning, but perhaps a little misguided in their approach.
They have enough experience under their belt to know what they're doing, but the trouble is that that do not have the full life experience that the King and Queen have, thus they are prone to being extremists.   Take into consideration both sides of the situation when presented this card.
Knights are the courts protectors and messengers.
Knights – Fire; Pentacles – Earth of Fire; Swords – Air of Fire, Cups – Water of Fire, Wands – Fire of Fire
WANDS -The Knight of Wands rides a galloping brown horse. Brown is a neutral color and indicates that inspiration must be applied with your own biases.  This is s an 'act first, think later' personality and you should expect to see a lot of change and action.   It is best to be ready to react quickly and go with the flow as resistance is useless.   The Knight of Wands has a certain compelling sexual energy and can represent the dangerous or risky attraction in relationship spread — though this may be just what we want!
SWORDS – The Knight of swords rides a charging gray horse with a jagged, windswept mane. This symbolizes the speed at which debate changes people.  He can be extravagant, distrustful, or show that, in the sitter's situation, there is a lack of trust.   A powerful figure full of life and energy who needs to be balanced with a realization of responsibility and compassion.   Expect a burst of energy that is propelling you forward and inspiring you to take quick action to manifest your goals.
CUPS – Can be charming and appealing to people with a romantic touch.  As a messenger he can bring messages that have an emotional connection.  It is important to pay attention one's dreams when presented this card.  The Knight of Cups rides a pure white stallion trotting on the path of love as he raises his chalice for his one true love.   At times, he represents a willing lover in relationship spreads, but also one that may end up being emotionally immature.
PENTACLES –  The Knight of Pentacles sits astride a black mare at standstill rest. Like a good investment, this horse is ready to charge, but the lesson of wealth is to be patient.   Here is the Knight devoted to his quest, no matter how slowly it unfolds. The Knight of Pentacles is very methodical and rigorous manner about him, which also makes him trustworthy, reliable and a good provider.
I hope that these comments will help you better understand the Knights of the Tarot and assist you in future readings.