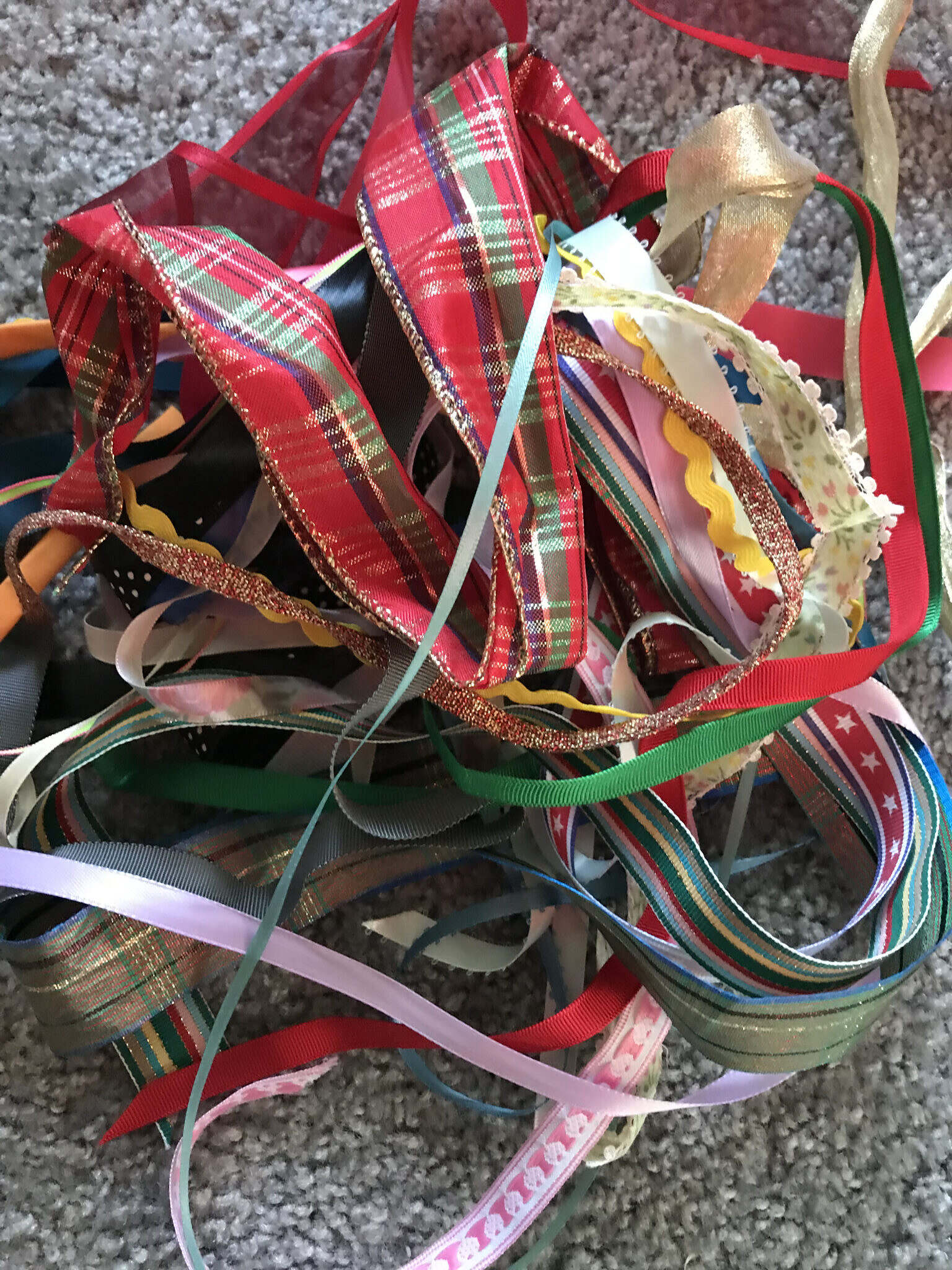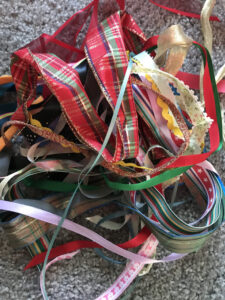 Originally I posted about Ribbon Readings in June of 2019.
I continue to love using them.
Along the way I find unique and interesting tools when I do readings and recently I discovered Ribbon Readings.  Unlike Tarot there is not a specific mean for each ribbon.  Actually I use it more when I am at Psychic Fairs as a way to create conversation with someone who passes by.   Give a quick reading for free to connect with someone along the way.   I have the sitter pick one ribbon with their eyes closed, when they have made their selection, I use my impressions to deliver the reading.
Add to your Toolbox – Ribbon Readings
Ribbon readings are one of the oldest forms of divination tools known.   There are no set meanings to each individual ribbon. Ribbons are read by what I perceives through thought and touch.  I use colors, chakras and patterns to assist me give a reading.    In my ribbon bouquet I have a selection ribbons in texture, colors and a variety of lengths.    They are bound together like a bouquet.   I usually have two of them with me when I do this.   One that I keep for me and the other is one that I will take apart and and give ribbons to help another Medium start their own.
There really are no rules here.  It is what makes sense to you.   Trust yourself as to what will work best for you.   Some ideas include:
keep them in a bag that you cannot see in and have people pull a ribbon from the bag.
Have people look at the ribbons and select the one that they are most drawn to.
Use more than one ribbon to give an in-depth reading
Don't feel that you have to use only fabric ribbons
Vary the length of ribbons
embrace colors and textures
Include yarn and perhaps an old chain
Like me you may find it a fun way to interact with others and give you an opportunity to have a unique connection with the sitter.   Tools like this and Tarot there are so many impressions and directions you can go.   Allow yourself to explore and you too may find it useful.