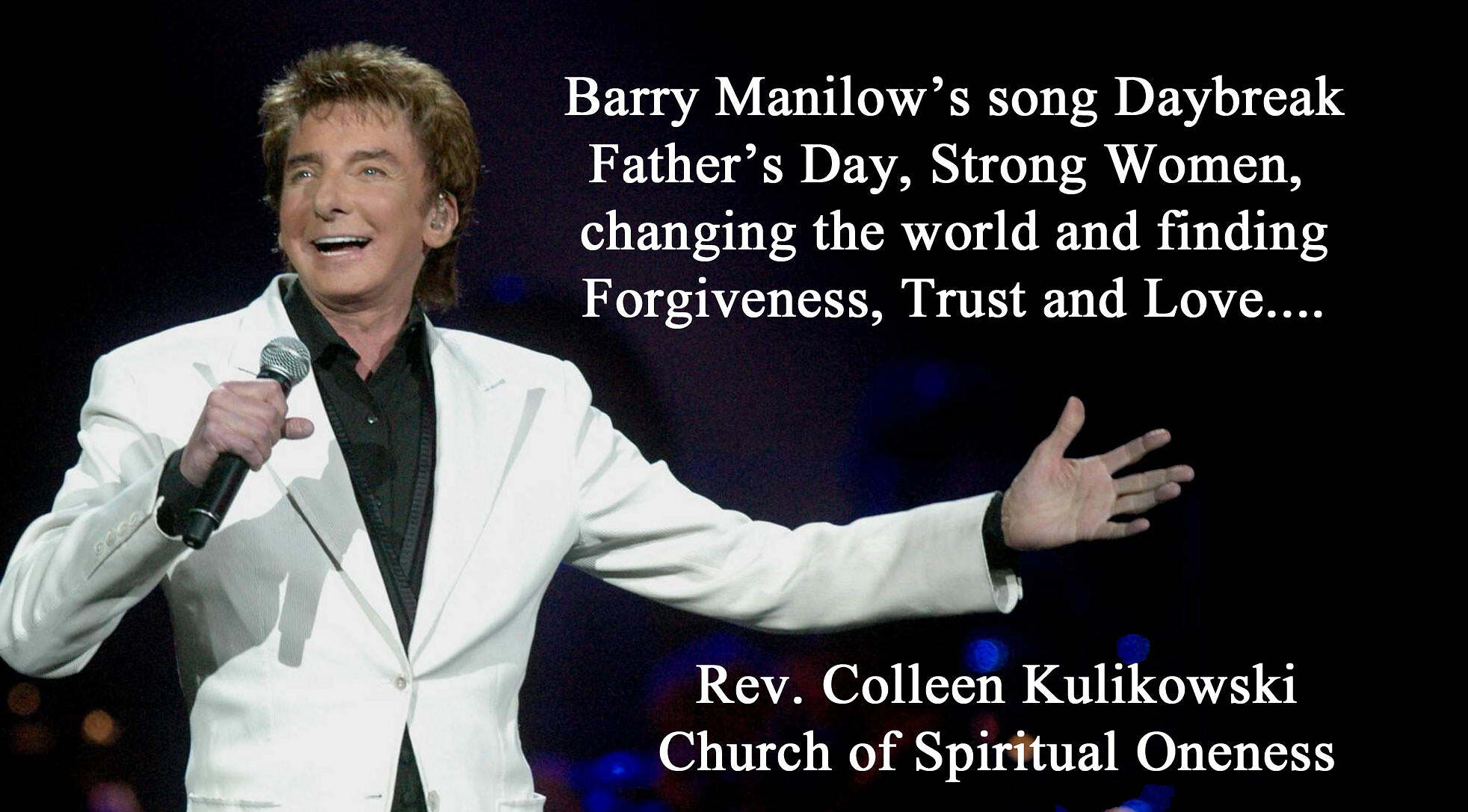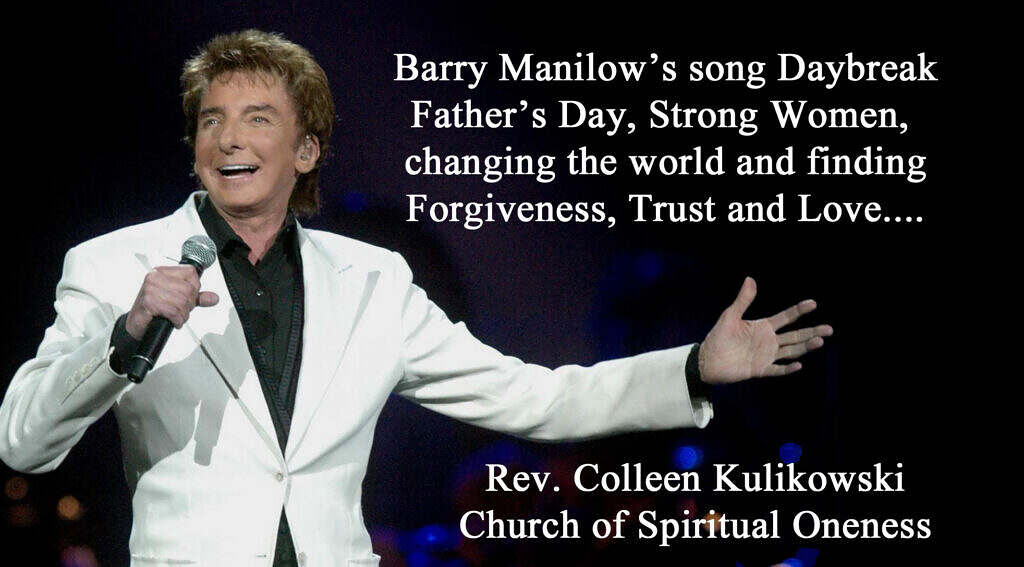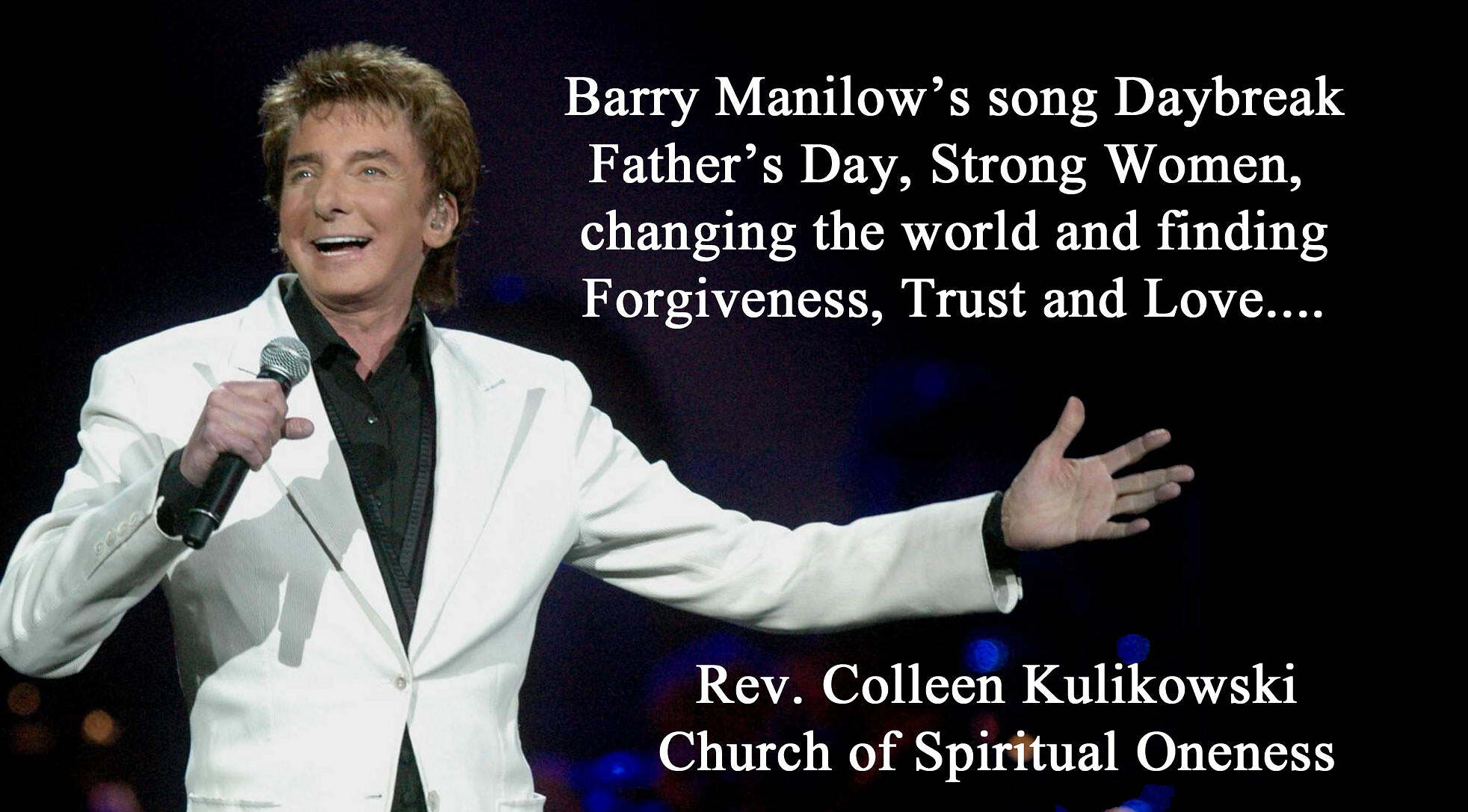 I love coming to this Church and serving them.  Last month they celebrated their first anniversary as a church.   Always warm and friendly group.   It will be fun to see them all again on Sunday.
This weekend I will be speaking on Father's Day there.   Spirit has a way of taking me on a ride of emotions and there is always a song that I bring to them.   The first time I brought Hallelujah and the last time I brought Day by Day.    A classic, a Broadway hit and now I am going to share a popular song by Barry Manilow.   I realize that these three words tie to my #threewords for 2017.    They deal with Forgiveness with Hallelujah, Trust in Day by Day and Love with Daybreak.   There are no accidents….
Father's day is emotional time for me, my father died 3 years ago on of all day's Father's day.   We did not have a very good relationship, but over time I have been able to forgive not only him but myself.   For years I would stand in the isle of Hallmark in tears because I so desperately wanted to feel the way that they cards summarized love and adoration for a father.  I couldn't because that was not the relationship I was given.   I have learned to build trust, learn what healthy loving relationships are and grow from that.   What I have learned had I not had the father I had, I would not have been able to do what I am doing now.
I am also going to talk about how a Father's love and beliefs brought up 4 very strong and independent daughters who in their own right changed the world during the Victorian era in this country.   Then in modern times how another man picked up a woman who was desperate to find her voice and now he can't shut her up.
You can come here how I will tie it all together on Father's Day.
The words to Daybreak:
I'm singin' to the world, it's time we let the spirit come in
Let it come on in
I'm singin' to the world, everybody's caught in the spin
Look at where we've been
We've been runnin' around, year after year
Blinded with pride, blinded with fear
But it's daybreak, if you want to believe
It can be daybreak, ain't no time to grieve
Said it's daybreak if you'll only believe
And let it shine, shine, shine
All around the world (sing it to the world, sing, sing)
(Sing it to the world, sing, sing)
Singin' to the world, what's the point in puttin' it down?
There's so much love to share
I'm singin' to the world, don't you see it all comes around?
The feeling's everywhere
We've been closin' our eyes, day after day
Covered in clouds, losin' our way
Hey, but it's daybreak
If you want to believe, it can be daybreak
Ain't no time to grieve
Said it's daybreak, if you'll only believe
And let it shine, shine, shine
All around the world (gotta sing, sing it to the world)
(Everyone singing, sing it to the world)
Yes, and it's daybreak
If you want to believe, it can be daybreak
Ain't no time to grieve
Said it's daybreak, if you'll only believe
And let it shine, shine, shine
All around the world (everyone singing, sing it to the world)
Let it shine, shine, shine
All around the world (sing it to the world, sing, sing)
(Sing it to the world, sing, sing)
It's day-ee-ay-ee-ay break, can ya feel it (sing it to the world, sing, sing)
It's day-ee-ay-ee-ay break, can ya sing it (sing it to the world, sing, sing)
sunshine
(Sing it to the world, sing, sing)
(Sing it to the world, sing, sing)